With no 100% fact, it all started when the manager of a rock band Jefferson Starship was upset that the official Jefferson Starship website was ranked on page 4 of a search engine, rather than first on Page 1. According to the author of "Digital Engagement" Bob Heyman, this birth of the term "Search Engine Optimization" (SEO). SEO has been popular for a long time and is gaining more attention today. It may seem like a complicated term to understand, however, we have helped you to explain the jargon in this article.
The Relevance of SEO
SEO aims at putting your business on top of search results and the content you use for this is easy to understand, matches your service offerings, and is easy to find using a search engine like Google or Bing. This is at the right time when a customer is searching for products and services they need.
Whether you own a small, medium, or large business, you might have searched for "search engine optimization for my website" or similar, because you either heard about or read up on SEO somewhere on the internet. Well, it has become important to use SEO for your blog or website to get the best visibility on Search Engine Result Pages (SERPs).
Now, before we begin, SEO really starts with having a website or social pages that can appear in search results. Then, you want to ensure that the content of these different online pages is well-written using keywords that your business intends to rank for.
SEO and content are inseparable. Learning about SEO content writing is key because putting out the right content ensures that when someone searches for a topic or uses a search term with keywords you want to rank for, they find your content first.
To help you make your website/online pages move up and enhance your SEO efforts, here are some tips to write SEO-friendly content.
The Research
Not carrying out research is like shooting blanks in the dark with SEO. Research ensures you are writing content that not only includes your keyword but also appeals to search engines and the interests of your audience or answers their questions. The key is to deliver value with your content.
Research before writing will require the following to make a difference:
Determine what keyword(s) to target.
Determine the length of the article. 1000 words or more is a good start.
Figure out a topic that addresses the needs of your audience.
Analyze existing articles for reference.
Understand that people have questions and answer them accordingly.
Make your content industry-related and ensure your content enables you to rank for what you intend to on SERPs. If you want to learn how content marketing can help you do this, we have an article on content marketing strategies to attract new customers which in turn improves SEO.
Keyword(s) to Target
To determine the target keyword you want your website pages to rank for, use these tactics. To start, create a spreadsheet to save the insights you get.
Use link analysis tools to see where you currently rank. Some tools are Ahrefs, Majesticsiteexplorer, and Mozlinkexplorer. This information will give you insight into your competitors and the keywords they rank for.
Type the keyword that represents the product/service you offer in the Google search bar. See what suggestions Google provides you with, then save them.
Use Google Keyword Planner to gain more ideas on what keywords you can use in your content.
Use Google Trends to see the search pattern for the keywords you want to rank for, so you know if they are popular at a particular period or have remained constant.
All results you get through these steps can serve as insights for your business to implement other SEO strategies.
Length of the article
This is a bit tricky. You can make your article short or long depending on how much information you want to put out. Google does not care for word count, because it has not been proven that large word counts produce higher rankings. It can only be seen that large word counts are associated with higher rankings.
So, instead of focusing on targeting a set word count, focus on writing content that is interesting and informative based on the search queries people are typing on Google daily.
Analyze Existing Articles
To improve your article, search on Google for similar articles that rank high on SERPs to help you understand what Google thinks is better for such queries. Notice the pattern of how the posts that come up are listed, the structure of the preview, and the content, you should not stray far away from these.
Use the "People also ask" search
As you search for your target keyword on Google, a section called "people also ask" will show up. Pick out the questions that are valid and match the intent of your article, then answer them in your write-up. Once you click on one of the questions, Google will add more questions, so know how to work with this.
Once you are done with this research, it's time to start writing for your audience and optimizing your article using keywords that will help you build links to your website/online pages. It sounds tedious; however, it is totally worth it in the end.
While you search for your target keyword in the Google search, a section called "people also ask" will show up. Pick out the questions that are valid and match the intent of your article, then answer them in your write-up. Once you click on one of the questions, Google will add more questions, so understand how to work with this.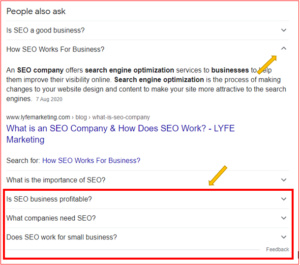 Once you are done with these, it's time to start writing for your audience and optimizing your article for SEO.
The Content
Most people use WordPress as their content management system but even if you decide to use another content management platform for your blog; these tips are still useful for you. You don't have to implement all these tips, find those that are useful for you and use them to your advantage.
We will be using WordPress to explain how you can optimize your content for SEO as well as perfect SEO content writing.
Distributing Keywords
Use targeted keywords throughout your content, evenly distributed. For example, if you run a website design and development company and you want to rank among the "top website development companies" in a particular location, it should be reflected in your write-up. Now, I said evenly distributed because you don't want to create "keyword stuffing" which can result in an action penalty from Google. So, you want your content to be as natural as can be to your readers.
Take into consideration long-tail keywords, as this is more specific and describes what a searcher needs. This is also good if you want to optimize for voice search as almost everyone has this integration on their phone or home device which they give commands.
Structure your Posts Using Headings
Just as you enjoy reading content with proper paragraphs and concise arrangement, do the same for your readers. Main headings, subheadings, lists, etc. should all be laid out clearly.
Use the right heading tags- H1, H2, and H3. The post title usually has an H1 heading tag. So, reasonably for the next sub-heading, it would be an H2 heading, and then an H3 heading, and so on. These headings come in very handy especially when you are writing a long post.
With this, you avoid confusing your readers which can lead to a likely close of the tab that has your blog post. If you are like me that writes on Microsoft Word or another document before transferring to WordPress, while you are writing, structure your content to reflect which text will stand as your H1, H2, and so on.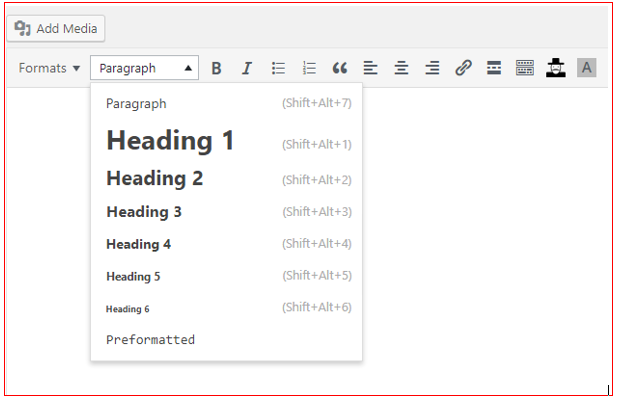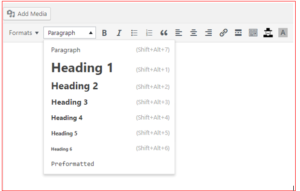 Use Titles- Post Title and Meta Title
A post title is how a reader sees the title of your post on your website and a meta title is how search engines display your post in search results. This helps your posts reach most of your audience.
On WordPress, you will find "SEO settings", if you have not specified a meta title, the post title will automatically serve as the meta title and it is not advised to keep it this way. While you create your meta title, insert keywords you are targeting. A post title is usually less than 66 characters.
Meta Description
Meta descriptions are key for search engine ranking as they serve as a sales copy of your article/blog post. This will encourage searchers to click on your post depending on if it has specific words that relate to their concerns. The limit is 156 characters. While you write this, insert keywords you want to target and create a compelling description that will compel searchers to click on your post. If you didn't care about this before now, you can start implementing it today by editing your previous posts.
Optimizing your article or content with meta descriptions ensures that each post you create has the potential to drive a desirable amount of traffic to your website/online pages. Since Google sees each blog post as different web pages, you can make each page on your website highly visible for certain keywords you are targeting with your content.
Image Alt Attribute
All images you put in your blog post should be given a name, this is known as the 'image alt attribute". Since Google can't read images, this text is how the search engine recognizes an image. When you type this, you should use suitable image names to describe what the image depicts so search engines can understand what an image is about.
Don't choose descriptions that match how images are saved on a computer. This does not help your website be visible on Google. It is possible to make the mistake of uploading images with names like image001.jpg. For instance, if I want to save a picture on the SEO landing page of my website, and I name the image "SEO", it will most likely not be targeted. Instead, you need to use a name like "SEO Best Practices–landing page". This way, when people search for images about SEO best practices and landing pages on 'Google Image Search', my image will come up.
A tip is to use keywords you want to target in your image alt text, this can improve search results and also your website visible on Google.
Anchor Text and Interlink
Sometimes, I forget that I wrote old posts because I have spent time focusing on new ones. I learned that this is not a good SEO tactic especially if you want to prevent your website from being visible on Google from dropping. So, I started creating ways to link back to old blog posts while I write new content and update them with new keywords I am targeting. This is useful because readers tend to stay longer perusing your web pages if they find value and search engines can re-crawl these old posts.
This activity helps to reduce the bounce rate and aids better navigability on your website. Anchor text shows in the hyperlink when you are linking to another document or location on the web. Using this can help you interlink, which means you can target the same domain that the link in your anchor text exists on.
As usual, don't forget to insert the main keywords for older posts you are linking to in your new posts. This can improve the SEO of these pages and also your website's visibility on Google.
Use Lists
Google has a function called "Featured Snippets" which are results that show up at the top of search results directly above the organic results we are usually served. Using lists in your article has a high likely chance that your post will show up as a featured snippet to answer search queries immediately.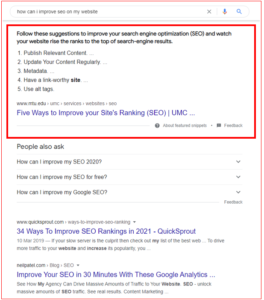 Natural Linking
You can include links to your website/online pages or other websites with high authority. If you are putting the effort along with luck, your article can be picked up by another site. Also, a searcher can discover it and share your link(s) on a platform that generates clicks for you. Getting clicks for your links via search engines will make your website visible on Google.
SEO content writing is not all about written content. If you incorporate creative content like infographics and videos, add an embed code on your site. You can promote the sharing of your content sharing. This can also add a link back to the source.
Permalink
Some people still ignore this, honestly, I used to when I started using WordPress. It was really because I didn't understand its importance. Permalinks help searchers anticipate what your article, posts, or webpages are going to highlight. Depending on how this is structured, it can make searchers more likely to visit your pages.
It is essential to have permalinks that don't have stop words such as "a" "an" "the" and some others because these are overlooked by the search engine. Usually, it is easy to be compelled to write a post title that contains a lot of stop words. For example, "3 Ways to Create a Social Media Business Plan". The post permalink, by default, would be domain.com/3-ways-to-create-a-social–media-business-plan.html. "To" and "a" are stop words in this example.
To make this look better, edit the permalink to "social-media-business-plan", so it becomes domain.com/social-media-business-plan.html thus eliminating the stop words. An important tip is to never change your post permalink once the post is published. This can disrupt the way your website pages are visible on Google.


Let's wrap this up! Writing articles or content to help you improve search engine optimization (SEO) activity will be continuous. If you want your website pages visible high on Google over time. So, it is necessary to know and use the techniques that work. Also, you have to keep learning about ways to generate quality traffic and engagement on your website pages. Take courses online, sign up for newsletters from ThinkGoogle, experts in the industry, and follow them on social media. We already spend time there anyway.
If you have more tips or questions on this topic or you are interested in making your website pages visible on Google, contact us, or please leave a comment to let me know what you think. Thank you for reading.